It has become quite popular to do webcasts, live-streaming and other types of video stuff on the internet. Last year, in 2019, I have started doing this myself also. We've started doing so-called 4DNCasts, which is a webcast where a couple of colleagues and I talk about development & technology stuff.
I'm also doing live-coding sessions myself on Twitch and store the recordings on my YouTube channel. There are also a couple of other, virtual sessions, which you can find on this channel. I'm by no way an expert on this video and streaming stuff but have learned a thing or two in the process. Because of this, some people keep asking me questions on how to start themself. Instead of answering each individual with the same answer over and over, I decided to make a post about this.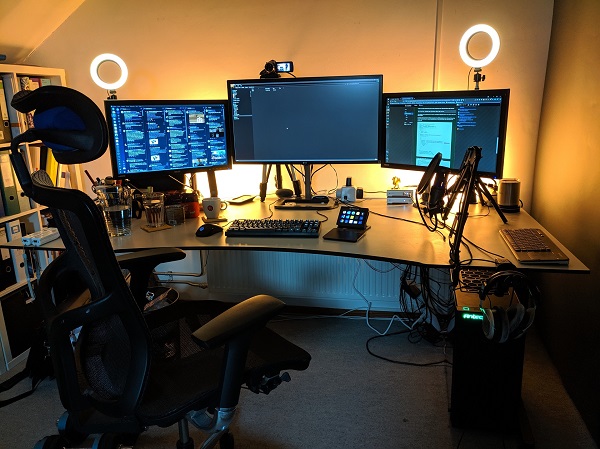 The hardware
While some will say "It's all about the content", hardware matters also.
Sure, you can start recording videos or do streaming with the built-in stuff of your laptop but I recommend spending a couple of bucks to get a bit better quality in your videos.
The camera
We're making videos, right? It makes sense to spend some money on the camera.
As I mentioned, the built-in camera of your laptop works fine, but it's not great.
Depending on your budget, there are a couple of options.
If you have a very tight budget, I'd recommend buying a Logitech C920 HD Pro webcam (or C922, C925). It goes for about $100 and, most of the time has a way better quality compared to a built-in webcam. Keep in mind though, this is a budget webcam and was originally introduced in 2012. There hasn't been much innovation on webcams in the past couple of years.
You could try to find a cheap webcam from sites like AliExpress. You'll be able to find a couple of videos reviewing those webcams. The video quality of those cheap webcams is pretty good, but it's a gamble.
There's also the new Logitech StreamCam nowadays. It might be a good alternative for the C920. It's a new device, so the hardware is probably much better which hopefully will result in much better video output.
For people with a bit more money to spend, the Logitech Brio is a great device. It can output 4K video if you want, but also the video quality is much nicer to look at.
If you want to get serious in the video and streaming business, it is recommended to use a real camera. The most popular one at the moment is the Sony A6000 (Dutch reflink).
To connect this camera on your desktop you'll need something which has an HDMI input and a USB output, like the Elgato Camlink. This is a great device that enables you to create a 'webcam' with nearly any camera out there. There's even a list of compatible/tested devices on the Elgato site. I'm using a Panasonic HC-V180 myself because I had this one laying around. The image quality isn't as good compared to a modern mirrorless camera, but it's dramatically better compared to a C920 webcam.
I'm saving up for a Sony A5100 or A6000 with a nice lens to get an even better image quality on my videos and streams.
Microphone
You're probably going to do a bit of talking on your streams and you want people to hear you. It's advised to invest a bit in a nice microphone. I've got a AT-2020USB+, which is a cardioid condenser microphone. Popular alternatives are the Rode Podcaster (Dutch reflink) or Blue Yeti (Dutch reflink). All of these devices are good enough for most use-cases, but I can imagine you find them a bit too expensive.
If you want to go cheap, a couple of colleagues bought the Devine M-Mic USB BK (Dutch reflink). It's also a great microphone and costs a fraction of the price compared to the other models I mentioned and the sound quality is good enough.
Keep in mind, you also need (or I should say want) a boom arm, shock mount and pop filter for your mic. This will make your life much better. Still, all of this stuff adds up.
USB or XLR?
As you probably noticed, I bought a USB mic and so did my colleagues. While this is an easy and cheap way to start, it's not something I recommend if you're serious about creating videos and streams.
If you know for sure you want to pursue this career, go for XLR microphones. Most of the time the quality is a bit better and because you have to connect it to some mixer it's much more versatile.
A popular mixer is the Go XLR. Lots of streamers use it because it's a relatively cheap device and good enough for most users who are starting in this space. Plus, it has great RGB colors on the buttons!
Greenscreen?
Are you working in a nice and clean office? If so, you probably don't need or want a greenscreen (Dutch reflink). If it is a mess, you're probably better off with one. With it, you can turn on a Chroma Key filter to make your background transparent or visualize some graphics on it.
Any brand of greenscreen is good. Just make sure you get one that can be placed behind you and is wide enough for the part of the body your camera is filming.
Lighting
This is probably one of the most important parts to get right. With proper lighting, you can do a lot to make the image quality better.
What a lot of people are doing is placing a ring light in front or next to the camera. With this, your face will get the proper lighting and you'll get those nice angel eyes when looking into the camera.
Also, make sure the rest of your room has lots of light. If there's a lot of light, the camera can work with its most optimal settings, like a very low ISO setting and a low aperture (low aperture is great for a soft bokeh). I have bought a couple of cheap LEDs to lighten up my room. One advise over here, make sure you can control the brightness & color temperature of the lights.
If you want to spend some serious money, go for the Philips Hue Play (Dutch reflink) lights and the Elgato Key Lights (Dutch reflink). Both systems cost quite a lot of money, but you can do a lot of nice tuning with them and they integrate very well with the Elgato Stream Deck.
Elgato Stream Deck
This is probably one of the best things to get for you as a streamer, but also if you are a regular computer user.
It's a small keyboard and the keys are LEDs that you can place icons on. Using the Elgato software you can create macros, shortcuts to control anything on your system and also control your Hue lights.
The Stream Decks (Dutch reflink) come in different sizes. My recommendation is to get at least 1 medium-sized (15 buttons) Stream Deck, but get multiple or bigger Decks if you can. You can never have too many buttons!
The software
Now that we've covered all of the additional hardware you need for your streaming, let's start with the software.
Krisp
I can't recommend this tool enough. Krisp (reflink) is a noise-canceling application for your speakers AND your microphone.
The noise-canceling for the speakers isn't something I'm using. I do use this feature for the microphone.
On my desk, I have a mechanical keyboard, which makes quite a lot of clicky noise when I'm typing. This sound is very annoying when listening to my videos. Krisp filters out all of this typing sound. Also, I'm sharing my office with a washing machine & dryer. Having a family with 2 small kids, you can imagine we're washing & drying a lot of clothes. When I have turned on Krisp, no one is hearing these noise, because it also gets filtered out.
It's not only useful for streaming, but also for conference calls & meetings you have when working from home.
This software works on a subscription basis, but if you pay per year it's only about $3 per month at the moment.
OBS Studio
I've used both Streamlabs OBS and OBS Studio.
Both products are great, but I like the OBS Studio a bit more as it has more plugins I want to use.
With these products you're able to create different scenes for your videos and streams, like a fullscreen monitor, adding yourself as a speaker, having different overlays, images, etc. There are also multiple ways to make transitions happen between those scenes and best of all, both products work very well with the Elgato Stream Deck!
Best of all, it's free!
Music
If you're doing live coding streams it can become rather quiet when you're thinking or debugging.
To overcome this silence, a lot of streamers use some background music of their liking to fill the void. Do make sure it's not too loud, but still loud enough to hear.
Another thing to keep track of is the licenses of the music. If you don't have a streaming license for certain music, there's a big chance you'll be muted during the stream for playing copyrighted music. There are a couple of services & playlists which offer you copyright-free music or work via attribution.
I'm using Pretzel Rocks Free myself. This service claims to play copyright free music if you give the proper attribution, like via the Chat on your stream.
There are other services & playlists you can use or just buy a streaming license for music you want to have on the background.
To conclude
I know this is a rather big post if you're new to this space, so let me sum it up.
On a tight budget
I'm going with the cheapest stuff over here, just to get you started.
Logitech C920/922/925
Devine M-Mic USB BK
Cheap led lights from your favorite webshop (like AliExpress)
Krisp
Optional: Green screen
For the mandatory stuff, this will cost you about $180 to $200 bucks.
Having a bit more to spend
Logitech C920/922/925
AT-2020USB+, Blue Yeti or Rode Podcaster - all USB
Led lights from your favorite webshop (like AliExpress)
Elgato Stream Deck
Krisp
Optional: Green screen
This will set you back for somewhere between $400 and $450.
Starting to become serious
If you know you like doing this stuff and have a nice income, here's a good shopping list.
Elgato Cam Link 4K
Sony A5100/A6000 with lens & dummy battery
AT-2020, Blue Yeti or Rode Podcaster - XLR
Go XLR mixer
Led lights from your favorite webshop (like AliExpress)
Elgato Stream Deck
Krisp
Optional: Green screen
The camera with peripherals will cost you the most on this list. Assuming you have to buy everything new by yourself you'll have to pay about $1100 to $1300 for this setup.
Having some serious lighting going on
The previous list is already good, but the lighting can be better.
Elgato Cam Link 4K
Sony A5100/A6000 with lens & dummy battery
AT-2020, Blue Yeti or Rode Podcaster - XLR
Go XLR mixer
3 Philips Hue Play lights + Bridge
2 Elgato Key lights
Elgato Stream Deck
Krisp
Optional: Green screen
These lights are expensive, but they are also great to have.
Each Key Light goes for about $200 nowadays. The Hue Play set costs around $200. In total, the lights will cost you an additional $600, which makes the total a bit less as $2000.
Of course, if you're serious about this stuff there's even more great hardware & software you can buy. But if you're that serious about making videos and streams, I guess this post isn't for you and you'll probably know more about the process as me at the moment.
---